Greetings, Kittens!

I'm under deadline with the clock ticking and just didn't have the brain-space left to craft a 13 today. Fortunately, I didn't have to, I pulled in the lovely Kimberley Troutte instead. I know you're in capable hands.

Enjoy.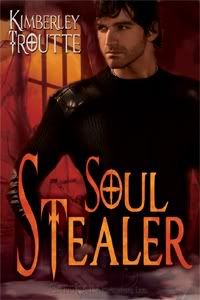 Xakara has graciously allowed me to play the Thursday Thirteen with you. I thought it would be easy.
I was wrong. It's amazingly difficult to think of thirteen things that go together (unless we are talking
about doughnuts or cookies!). I stewed about this for a couple of days, wondering what in the world I
could share.
Then I thought about Sara, the main character in my book SOUL STEALER, who comes face-to-face with
Death and negotiates for more time. Sara clearly understands the value of her last few days on earth
and uses those precious minutes wisely.
So that got me thinking. Am I using my time wisely?
On a whole, I'd say yes. I love my life, my family, community and home. But I'm going to let you in on a
secret—there is one teensy little thing that is missing. Travel.
I love to travel, but after having kids and a day-job and bills and more day-jobs and more bills, it became
harder to pick up and go. Still, I want to go. Sometimes desperately. I crave the adventure of seeing new
places, meeting new faces, being awed by the world around me.
And suddenly I know which thirteen things I want to share…

Thirteen Places I Long to Visit
1) Greece. OMG, I've always wanted to see Athens. Who doesn't? Those white buildings
overlooking the deep blue sea. Ancient history all around. The food!
2) Rome. Okay, a trip to both Greece and Rome would be amazing. A lifetime adventure. Dang, I
might be drooling a little over here.
3) France. Especially during the Tour de France. My hubby and I are big cycling fans, so I would
LOVE to follow the Tour cycling route.
4) Switzerland. Those gorgeous mountains and fresh air.
5) Ireland. Come on, can any place really be that green? I want to see for myself.
6) Australia. I have been to Sydney and would go back in a heartbeat. Great people, beaches,
amazing Barrier Reef.
7) New Zealand. I went when I was a girl. Such a beautiful place. Friendly, friendly people.
8) Hawaii. Snorkeling, surfing, exploring, volcanoes, coffee, warm gentle breezes scented arm air
scented by amazing flowers…What's not to love?
9) Yellowstone National Park and the Grand Tetons. Always wanted to go there. The mountains,
the beauty, the wildness of it, the freedom. Just not in the Winter, or when it's too hot.
10) Caribbean Islands. I've been to a few of them and would love to see more. Swimming,
snorkeling, warm water, great food….Wow, this list is really stirring up the travel lust.
11) New York. Always, wanted to see the Big Apple. Always. The city, food, Broadway? Where's my
suitcase?
12) Canada. So close, but so far. I've seen pictures and know a few amazing Canadians. Would love
to go there. Maybe by train. Or ship!
13) Florida. The kids would love Disney World and the beaches. And those Florida Keys!
One day, hopefully soon, I want to see all thirteen places and more.
Kimberley Troutte has two books published by Samhain Publishing, SOUL STEALER and CATCH ME
IN CASTILE. She is a Southern California girl. She lives with her husband, two sons, one dog, and
three very large snakes. She's been an accountant, substitute teacher, caterer, financial analyst for a
major defense contractor, real-estate broker, aerobics instructor, freelance writer and caregiver to
creatures the kids/hubby/dog drag in.
Visit her at: www.kimberleytroutte.com