Greetings, Kittens!

Today I'd like to share with you a bit from Marie Sexton, author of the Coda Books; Promises, A to Z, The Promise, The Letter Z, Strawberries for Dessert, and the newly released Putting out Fires. Rather than an excerpt or interview questions, (and those may yet be coming), Marie has shared 13 of her favorite lines from the Coda Series. Marie is giving away a choice of ebook from her backlist so be sure to leave a comment to be entered to win!Enjoy.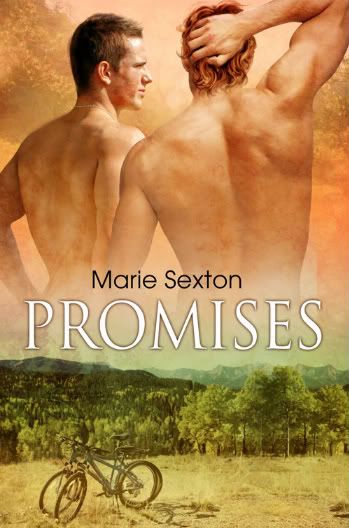 Thirteen of my favorite Coda lines (I cheated and snuck one in from my April release,
Paris A to Z):
1. "Rub some dirt on it."
2. "What the fuck ever."
3. "No self-respecting Coloradoan would date a Chiefs fan."
4. "Did you get that out of the Masochist Biking Club handbook?"
5. "Seriously, the guy doesn't know The Legend of Billie Jean from Legends of the Fall."
6. "Because it's sentimental crap, or because nothing gets blown up?"
7. "Violence and mayhem. Nothing better."
8. "All-you-can-eat bacon really is preferable to eternal salvation, isn't it?"
9. "I have an Armani hidden underneath [these clothes]. I was planning a Superman-style change of wardrobe in the car."
10. "Get me some eyeliner and a little hair gel and I'll look like Adam Lambert for you."
11. "Do you have a strange fruit fetish I don't know about?"
12. "There's only one solution. Somebody at this table is going to have to sleep with Matt."
13. "A blow job's more of a birthday thing."
The Coda Series (published by Dreamspinner Press) is:
Promises
A to Z
The Letter Z
Strawberries for Dessert
Putting Out Fires
Paris A to Z (coming April 2011)
The books don't necessarily have to be read in order. For a rather wordy explanation of
what comes when, you can look here. (http://mariesexton.net/book-list-and-timeline)
I also have a short story published with Silver Publishing called One More Soldier.
All books can be found on Amazon here. (http://tiny.cc/mgps6)

Marie Sexton lives in Colorado. She's a fan of just about anything that involves muscular young men piling on top of each other. In particular, she loves the Denver Broncos and enjoys going to the games with her husband. Her imaginary friends often tag along. Marie has one daughter, two cats, and one dog, all of whom seem bent on destroying what remains of her sanity. She loves them anyway.
Visit Marie's website at http://mariesexton.net/, follow her on Facebook and Twitter, join her mailing list, and absolutely don't forget to check out her tumblr. (Tumblr NOT work safe.) And there's always her email.

Other Thursday Thirteeners