Greetings, Kittens!

Happy National Breast Health Month! Yes, I know that's not what it's called, but as I've mentioned before, I would rather the focus be on working towards health, rather than fighting against disease. For today's TT I once again offer 13 Ways To Keep Breasts Healthy Right At The Grocery Store.

Enjoy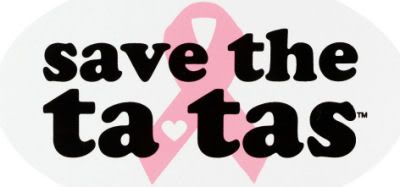 13 Foods For Breast Health

Breakfast
1. Whole-grain carbs like Oat Bran cereal add insoluble fiber that absorbs excess estrogen and carries it out of the body.




2. Half a grapefruit has vitamin C, beta-carotene and folic acid believed to sweep carcinogens out of the body.




3. Papaya has vitamin C that works as an antioxidant and may reduce absorption of nitrosamines from the soil or processed foods. It also contains folic acid which is shown to minimize cervical dysplasia and prevent neural tube defects.



4. Raspberries contain vitamins, minerals, plant compounds and antioxidants known as anthocyanins that act as a protectorant.



Lunch & Dinner
5. Beans are a great source of fiber and phytonutrients and can be easily added to pasta, soups and salads that could contain...



6. Spinach with its two antioxidants, lutein and zeaxanthin.



7. Mushrooms such as shiitake and maitake among others contain the protein lectin which attacks unhealthy celss and prevents them from multiplying.



8. Broccoli contain indole-3-carbinol and the sprouts have phytochemical sulforaphane. If you don't like it plain, a serving of low fat melted cheese can make it into a treat. But a better dressing could be made with...



9. Extra Virgin Olive Oil, a great source of monounsaturated fats that have been linked to keeping breast healthy. Garnish with...



10. Nuts containing the antioxidants quercetin and campferol that suppress unhealthy growths. Brazil nuts contain 80 micrograms of selenium that also protects the prostate.



11. Flax, which works both sprinkled over cereal and salads, contains lignans which may have an antioxidant effect and block or suppress cancerous changes. It's high in omega-3 fatty acids that protect the heart and colon as well.



12. Turmeric can season quite well, a little going a long way. A member of the ginger family, Tumeric is sites as an aromatase inhibitor which lowers estrogen in post-menopausal women. It also decreases inflammation.



13. Red Grape Juice contains bioflavonoids and polyphenols which helps neutralize free radicals.





Detailed List from ABC News

Other Thursday Thirteen Participants