Greetings, Kittens!

I still haven't managed to restructure my days enough to visit all of you during the rest of the week like I want to. Today, I thought I'd share my week with you since we got the chance to hang out last Thursday. So here you are, 13 Things from My Week!

Enjoy.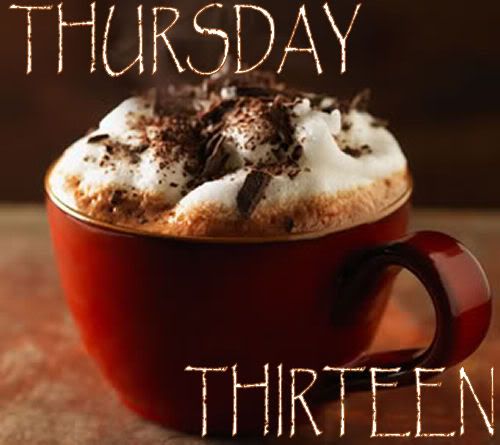 1. (Friday) Crush of the Week ~ Lena Headey @ Erotic Diaries. Crush of the Week is a regular feature at Erotic Diaries, where I've been alternating actors and actresses who supportive of social issues, body positive, sex-positive, and so far, who bring genre television and movies to new heights.

2. (Saturday) Writing From the Middle: The Pansexual's Delimma ~ Accuracy vs. Visibility @ QMO. Writing From the Middle is a recurring feature currently seen three times a month, once at QMO and twice for Menage Mondays at Michael Mandrake's.

3. (Sunday) Six Sentence Sunday #11 Saint Valentine. This is the first snippet shared from Saint Valentine for Six Sentence Sunday. It went over very well and I'm excited to share more from it at future dates.

4. (Monday) Launch of Silken Sheets & Seduction. This is a brand new erotic authors site and there's a huge giveaway of over 75 ebooks, gift cards, and a Kindle! Please stop by and get your name in the running. Winners will be announced October 1st.

5. (Wednesday) Wednesday Ramble ~ What is Sexy? @ Silken Sheets & Seduction. Wednesday Ramble is a brand new bi-monthly feature at Silken Sheets & Seductions. It brings my total to 5 other blogs you can find me on monthly, consisting of 10 posts a month--before any other random invites. Yep, I'm being social! :) I'd love for you all to come and weigh-in on the posts!

6. I got a job interview. Well, I got scheduled for a job interview. I'm waiting to hear back on the hard date and time. It's the first interview for me since I was laid off in February, 2010. I'll let you know the outcome next Thursday.

7. I decided to take a vacation from writing. Not that I've been getting an abundance of writing done while sick, but once my current projects are wrapped up, I'm putting everything else on hold until January. I'm also limiting myself to four projects for 2012. Let's see how that turns out.

8. I caught up on Sons of Anarchy. I still don't know how I feel about this show. I love Jax and Opie, but I'm used to being endeared to each individual in an ensemble cast and there are some characters in this show that I just want to see die! It's an odd place to be in, some three seasons in. It proves I love my husband-like-person! I watched only because he puppy-dogged me into it, and now I'm committed and conflicted.

9. Started a 1000 mile journey. Well, I started it before this last week, but this week is the first where I've made daily progress. My health and energy have been very poor, and in building back, focusing on the next 1000 miles seemed a fitting goal. I'm using a recumbant stationary bike and a pedometer to count my miles, but the pedometer has gone MIA, so I'll be estimating errands as a single mile until I get a new one.

10. I set a year health goal. I can't undo the CFS, nor can I force it into an upcycle. I can make significant health strides and regain where I was three years ago. That's what this year will be about.

11. I realized I was depressed. This sucks, but at least I know for sure that it's part of the problem and can deal with it. It was difficult to separate from the insomnia and blood sugar instabilities, but now I know and will go from there.

12. I was bombarded by four story ideas. None of which are on the list for the projects I'm working on next year. *headshake* If I slept like normal people, this wouldn't happen to me. Ah well.

13. I watched three of the first offerings of this new fall season. I'm reserving judgement.
Other Thursday Thirteeners