Greetings, Kittens!


There's been a lot on my mind while I've been sick these past weeks. Primary among my thoughts have been two things. The first, my UI runs out in ten weeks and there have been no callbacks on my numerous inquiries. Second, as bad as things might become, right now I'm doing better than many others and for that I need to be grateful, compassionate and giving when viable. There might be a donate button popping up on my site sometime soon, but for today I bring you 13 Ways You Can Be The Change & Save A Life.


Enjoy.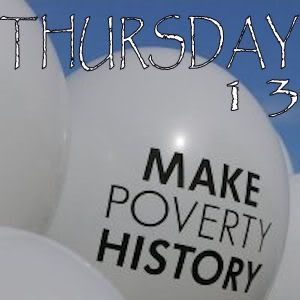 1. Hunger in America ~ In 2009 50.2 million Americans lived in food insecure households, 33 million adults and 17.2 Million children. $25 = 200 meals. That's just $5 from you and 4 friends. If $10 would be easier, you can text FEED to 50555 and then reply to the confirmation text with YES. No fuss, no muss!


2. The Horn of Africa ~ Plumpy'nut®, a vitamin enriched peanut-paste, plays a critical role in meeting the nutritional needs of impoverished countries quickly and effectively. This project will provide enough Plumpy'nut® to reach 40,000 children in it's duration. $25 = A month of meals for one child. Again, $5 from you and just 4 friends.


3. Charity: Water ~ This non-profit brings clean, safe water to developing countries. Unsafe water and lack of basic sanitation cause 80% of diseases and kill more people than all forms of violence including war. 100% of the donation money directly funds sustainable water projects. $20 can provide clean water for one person. That's $5 from you and 3 friends.


4. Feed A Child in Guatemala ~ The lovely Plumpy'Doz nutritional supplements can keep a family of four from the threat of malnutrition. $15 = A month of relief. That's $5 from you and two friends.



Feeling geared up? Let's talk about fostering nutritional independence.


5. Goats for Guatemala ~ This project not only provides a source of diary, protein and vitamins & minerals to supplement meager meals, it allows for long term prosperity and increased nutritional options from selling the excess milk, cheese and goat hair. $40 dollars = 1 goat. That's $5 from you and 7 friends.


6. Donate a Pig ~ In rural Haiti pigs are a measure of wealth. They insure an education, proper nutrition and a full quality of life. The pig population has been on the decline and now a grassroots organization wants to begin a breeding and education program. $25 = A quarter share in a pig. $100 = 1 pig and $200 equals a breeding pair. That's $20 from you and 9 friends.


7. Project Rise ~ The Rural Irrigation System for Ekumdipe will introduce framing techniques for the 6 month dry season, allowing for year round growing in the Ekumdipe community of Ghana. Turning the 6months of no income and inescapable poverty into a growing season will completely transform this community. $25 = A full sack of seed for dry season crops. $5 from you and 4 friends.


8. Homegirl Cafe ~ This project helps transition disadvantage and at-risk girls from gangs and impoverished living conditions to full-time employment at the Homegirl Cafe, a full service restuarant in the heart of downtown Los Angeles, California. The concrete skills learned through the program allow the girls to enter and compete in a highly in demand job market, taking them out of chronic poverty. $35 = Supplies for basic food preparation skill class. That's $5 from you and 6 friends.


Want to help in your community? Let's look at Feeding America where $45 will feed a family of 4 for a month:


9. The Mobile Pantry Project ~ Mobile pantries expand the reach of food banks, extending service into otherwise overlooked regions. You can find out what your local foodbanks are doing HERE.


10. National Produce Program ~ Formerly the Fresh Food Initiative, Feeding America established the National Produce Program to increase the network's capacity to handle fresh foods. This changes the program from simply fighting hunger to helping increase health and true nutrition.


11. Kids Cafe ~ This is an afterschool feeding program that provides meals and snacks to low-income children. The genius behind this is that it takes place where kids already congregate after school: local Boys & Girls Clubs, churches, public schools and neighborhood rec centers.


12. Summer Food Program ~ Over 20 million children were part of the free or reduced cost school meal programs, but less than 3 million children received meals during the summer because of lack of programs. Food banks stepped up to begin summer meal programs and must continue to expand. Does your community have one?


13. Relief Fleet ~ The price of transporting food has caused some food banks to have to turn down donations. This program works to lower the transportation cost so that all viable donation sources can be accepted. Every $1 saved on frieght provides 7 meals.



Other Thursday Thirteeners