Greetings, Kittens!

Social media has been on my mind a great deal lately and I'm doing my best to overcome my nature and master the finer points of it. I'll be honest, I forget Twitter is out there until someone reminds me and I was invited to Dreamwidth, but basically forgot about it as well. While figuring out a blog I could to concerning social media, I realized that I could actually list 13 Social Media Sites that I'm a part of, so mayhaps I'm not as bad as I thought.

Enjoy.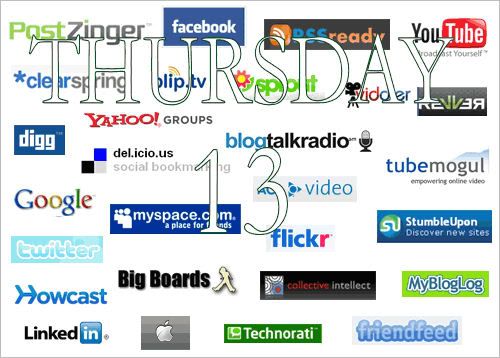 1. Livejournal. Always better to start with the obvious. I love the communities at LJ and the ability to keep up with the blogs of friends, but I admit, I'm not here as often as I wish.

2. Beyond the Veil. This is a group blog with fellow paranormal authors from Samhain Publishing and other houses. We rotate with set days that brings us down to one blog a month, just my speed.

3. Facebook. I definitely spend most of my time here. Between status updates, notes, fan pages, discussions and games, it's one stop shopping.

4. Twitter. Once I open it, I follow along and all is well; but I have to remember to open it. FB makes Twitter a little redundant for me, but I understand how Twitter is truly a different animal and runs at a different speed. I'll get the hang of it eventually.

5. GoodReads. Love, love, love my GR groups. I can't wait until I have more time to spend there and more discussions to jump into. I'm looking forward to my new release going up there and starting a few giveaways and conversations.

6. Romance Divas. This is a site for writers and readers. It was closed for a time but has opened up for a limited opportunity in celebration of it's latest award, (101 Best Websites for Writers). I've learned so much there and all of the help has been priceless!

7. Liquid Silver Books. My publishers forum. I'm not as active on the public side of the forum as I should be. But I'm getting better and have plans for expanding my presence there now that both of my series will have a second book out and I can create threads about the worlds.

8. AfterEllen. This is a site for multi-media news concerning lesbian, bisexual and sexually fluid women. From shows to books to movies, it's everything of interests as far as representation and items of interest. I love the blogs and forums, and again, I don't spend nearly as much time there as I'd like.

9. YouTube. Perhaps the ultimate social media site, I'm here daily, primarily watching vids but also talking to vidders and learning the skill myself.

10. ARe Cafe. A newer installment from All Romance Ebooks, the format isn't a favorite, but at least I learned it quickly and I've enjoyed the conversations, so this is a win.

11. The Romance Studio. I'm still brand new here, but they're having a party from midnight to midnight of the 5th, so I'll get to try it out and see what it's all about.

12. The Romance Reviews. I learned about them when they reviewed GHOST OF CHRISTMAS PAST and I signed up, but honestly I haven't been back often, again, because of the format. But I figured that once I get ARe down, I can transfer those skills to TRR and see what happens.


13.
GLBT Bookshelf
. This is a wiki for writers of GLBT fiction. I don't remember how I found it, but I'm glad to have another page out there, especially one that caters to readers specifically looking for bisexual and sexually fluid fiction. It was easy to set up once I switched browsers and it allows for comments, so I'm looking forward to where it could go.
Other Thursday Thirteeners